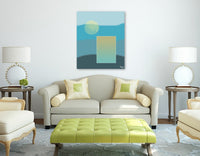 See a Rendering of Your Custom Painting in Your Room - FREE
Get a free digital sketch of your custom painting created based on your taste and color choices. Upload a photo of your room and we will place the sketch in the room.
Approve the sketch and your artist will create a one of a kind artwork and ship it in 7 business days.
Continue >
Testimonials
I was very satisfied with my custom abstract painting. An excellent piece of custom art work. Lovely working with the people at ArtByOrder.com, they were very professional and helpful in creating exactly the style of art work I desired. Would definitely buy from them again in the future.


Ceilia Hamilon, CT
Thank you ArtByOrder.com! LOVE my custom abstract!! The painting looks so good over my mantle, and the colors go really well with my decor, it really does complete my living room! Viewing the sample sketch online was awesome, exactly as I imagined it would be. Great deal for quality artwork!

Andrea Rossi, NY
A good buy! Quality abstracts, bought two paintings for different bedrooms. The ability to view the sample paintings online in the rooms before purchasing was a great feature.

Thomas Liposki, MA
I had difficulty in choosing what kind of artwork would look good in my master bedroom, thanks to the kind people at ArtByOrder.com, who designed a truly amazing piece of custom artwork our bedroom is now completely transformed. Even my husband was surprised at how much it changed the space. Now just waking up in the morning and looking at my painting gives me so much pleasure! I would highly recommend buying from ArtByOrder.com

Mary-Ann Brentwood, TX
Wow just Wow, can't believe how much the artwork jazzed up my home office!! The colors are so striking, the painting has totally changed the ambiance of the room. Ordering more for other rooms in the house. Looking forward to creating awesome custom art with you again!

Blake Burns, CA